We are a marriage services company based in the DC area, offering elopement planning and coordination, DC officiant services, wedding photography, and marriage license services. We pride ourselves on providing excellent customer service (just look at our reviews!) and our company is known in the Washington, DC area for our professionalism and convenience. We offer a number of marriage services for couples interested in getting married in our nation's capital, from full-scale elopement packages to simple marriage license signings. Washington, DC is a wonderful place to get married, whether you're hosting a 300-guest wedding or a simple elopement ceremony.
Washington, DC has become a very popular destination for engaged couples, offering a number of favorable options for marriage license applications, legal marriages for international couples, and world-class wedding professionals and venues. With so many reasons to elope in Washington, DC, why go anywhere else?
Important events in our lives deserve to be marked with a meaningful and personalized ceremony.
Everything about your wedding ceremony –readings, music, vows, symbols — should reflect  you: your values, your spirits, your family, your community.
Whether you've been together for just a few months or for a few decades, whether you're traditional or cutting edge, we'll work with you to craft a ceremony that's unique, personal, and memorable.
We love performing weddings for our LGBTQ community, and we have special expertise in interfaith weddings.
We'd love to talk to you about your ceremony. Contact us for a free consultation.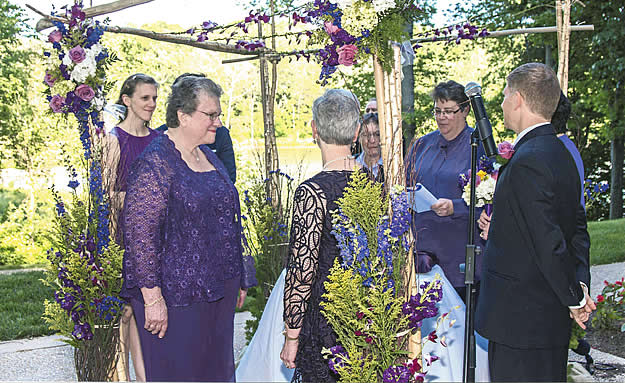 Congratulations, you're getting married! And I want to help you tie the knot. I am an authorized Washington DC officiant and a DC wedding minister. And I have been performing marriages in this area since 2004. If you're looking for an officiant who is professional, personable, caring, and respectful, call me. Many people know me to be a modern day minister, a pro gay marriages equality advocate and an honest person. Whether you're having a Christian, spiritual, nondenominational, or secular ceremony, I can help you. I embrace all beliefs and people, openly and unconditionally.