February is Black History Month
2021- The Black Family: Representation, Identity, and Diversity.
The DC Center is excited to explore and celebrate #BlackHistoryMonth as we support all black lives, black families, black history, and culture during this awesome time of education, unity, and support! Black History Month recognizes the many, often overlooked, contributions African Americans have made to America's history. The evolution of Black History Month has an interesting history of its own, and dates back to the end of the Civil War. The DC Center will host various virtual events to honor the legacy of African American families in the context of their storied past and present. We will also post several stories on influential African Americans.
Who started Black History Month?
Carter G. Woodson, known as the "Father of Black History," developed Black History Month. Woodson, whose parents were enslaved, was an author, historian and the second African American to earn a Ph.D. at Harvard University.
He recognized that the American education system offered very little information about the accomplishments of African Americans and founded the Association for the Study of Negro Life and History, now called the Association for the Study of African American Life and History.
In 1926, Woodson proposed a national "Negro History Week," which was intended to showcase everything students learned about Black history throughout the school year.
By the time of Woodson's death in 1950, Negro History Week had become a central part of African American life and substantial progress had been made in bringing more Americans to appreciate the celebration. At mid–century, mayors of cities nationwide issued proclamations noting Negro History Week. The Black Awakening of the 1960s dramatically expanded the consciousness of African Americans about the importance of black history, and the Civil Rights movement focused Americans of all colors on the subject of the contributions of African Americans to our history and culture.
The celebration was expanded to a month in 1976, the nation's bicentennial. President Gerald R. Ford urged Americans to "seize the opportunity to honor the too-often neglected accomplishments of black Americans in every area of endeavor throughout our history." That year, fifty years after the first celebration, the association held the first African American History Month. By this time, the entire nation had come to recognize the importance of Black history in the drama of the American story. Since then each American president has issued African American History Month proclamations.
But why is February designated as the month to commemorate African American history?
February is the birth month of two figures who loom large in the Black past: U.S. President Abraham Lincoln (born February 12), who issued the Emancipation Proclamation, and African American abolitionist, author, and orator Frederick Douglass (born February 14). Since the deaths of Lincoln and Douglass (in 1865 and 1895, respectively), the Black community had celebrated their contributions to African American liberation and civil rights on their birthdays.
Notable African American Heroes
George Washington Carver was born enslaved and went on to become one of the most prominent scientists and inventors of his time, as well as a teacher at the Tuskegee Institute. Carver devised over 100 products using one major crop — the peanut. He experimented with the legumes to make lotions, flour, soups, dyes, plastics, and gasoline—though not peanut butter! Find out more about George Carver.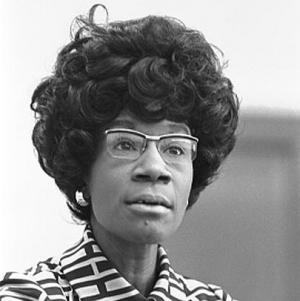 Shirley Anita St. Hill Chisholm was the first African American woman in Congress (1968) and the first woman and African American to seek the nomination for president of the United States from one of the two major political parties (1972).
Discrimination followed Chisholm's quest for the 1972 Democratic Party presidential nomination. She was blocked from participating in televised primary debates, and after taking legal action, was permitted to make just one speech. Still, students, women, and minorities followed the "Chisholm Trail." She entered 12 primaries and garnered 152 of the delegates' votes (10% of the total)—despite an under-financed campaign and contentiousness from the predominantly male Congressional Black Caucus. Chisholm retired from Congress in 1983. Find out more about Shirley Chisholm
Born into slavery, Harriet Tubman escaped to freedom in the North in 1849 and then risked her life to lead other enslaved people to freedom.
Tubman suffered lifelong pain and illness due to her mistreatment while enslaved. Find out more about Harriet Tubman.
Martin Luther King Jr. (born Michael King Jr.; January 15, 1929 – April 4, 1968) was an American Baptist minister and activist who became the most visible spokesperson and leader in the Civil Rights Movement from 1955 until his assassination in 1968. King is best known for advancing civil rights through nonviolence and civil disobedience, inspired by his Christian beliefs and the nonviolent activism of Mahatma Gandhi. He was the son of early civil rights activist Martin Luther King, Sr..
King participated in and led marches for blacks' right to vote, desegregation, labor rights, and other basic civil rights . Find out more about Martin Luther King Jr.
Marsha P Johnson is best known for her role in the 1969 Stonewall uprising and for her work supporting low-income LGBTQ people of color. Alongside fellow transgender pioneer Sylvia Rivera, Johnson co-founded the Street Transvestite Action Revolutionaries, a political collective that provided housing for queer youth and sex workers in lower Manhattan. Find out more about Marsha P Johnson.
Born in Harlem, New York, Aug. 2, 1924, James Baldwin was an essayist, novelist, playwright, poet, and social justice advocate. Baldwin is regarded as one of the foremost intellectual thinkers of the 20th century for voicing his concerns around identity, creativity and freedom. As an openly gay man during a time when homosexuality was taboo, Baldwin explored the intersections of his identities through several published works. Baldwin's work considered what it meant to be human and explored our everyday struggles, victories, and defeats during one of the most turbulent times for blacks in America. Find out more about James Baldwin.
Ernestine Eckstein (April 23, 1941 – July 15, 1992) was an African-American woman who helped steer the United States Lesbian and Gay rights movement during the 1960s. She was a leader in the New York chapter of Daughters of Bilitis (DOB). Her influence helped the DOB move away from negotiating with medical professionals and towards tactics of public demonstrations. Her understanding of, and work in, the Civil Rights Movement lent valuable experience on public protest to the lesbian and gay movement. Eckstein worked among activists such as Phyllis Lyon and Del Martin, Barbara Gittings, Franklin Kameny, and Randy Wicker. In the 1970s she became involved in the black feminist movement, in particular the organization Black Women Organized for Action (BWOA). Find out more about Ernestine Eckstein. 
These are just some of the many African Americans who have made a mark on us as a people and our country. We will use this month to highlight even more heroes.